BackupChain: Backup Software and Toolkit Made for IT Professionals
BackupChain is a customizable backup software for Windows Server and Windows PCs, made specifically for IT professionals. BackupChain is a general purpose server backup solution that can be customized to produce open-standard backup file formats so that you can backup all your server data, disks, databases, and VMs exactly the way you want, and at a much lower cost than other server backup tools. Open standard formats allow you to open backup files directly from the backup folder, without the need to use specialized software to access them.
Our reliable backup software runs for years unattended without issues, but if at any time you need help, you can also rely on our U.S. based BackupChain team. They are proud to provide competent, personalized technical support whenever needed.
BackupChain offers a variety of backup technologies for file server backup, disk image backup, backup versioning, and deduplication. BackupChain also includes live virtual machine backup to backup Hyper-V, backup VMware, backup VirtualBox and other platforms. You can back up files, VMs, databases, and entire disks to NAS servers, USB disks, SAN and iSCSI storage, local disks, and FTP sites.
Accessing your backups is also very simple: BackupChain defaults to open standard backup formats (ZIP, 7-zip, VHDXs, etc.) or can leave the file's native format intact. Whether you back up a file server, or a VM server running Hyper-V or VMware, backup tasks can be always be set up to allow direct file access from the backup folder.
Our notable customers include: Various international government entities, banks, large corporations, such as HP (Hewlett-Packard): See list of notable customers.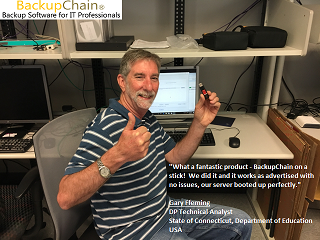 The Department of Education has over 85 servers with BackupChain Server Enterprise installed. After upgrading to v3, Gary tried our new
disk imaging
and
bare-metal recovery
features. He created a portable, bootable USB stick with Windows Server 2016 and BackupChain on it:
"What a fantastic product – BackupChain on a stick! We did it and it works as advertised with no issues, our server booted up perfectly!"
Gary Fleming, DP Technical Analyst, State of CT, Department of Education, 85+ Enterprise Servers with BackupChain installed
BackupChain's Main Features
Open standard backup file formats using the most advanced version backup technology in the market
Full disk image backup, live hard drive cloning, including bare-metal recovery. Disks can be cloned directly to other disks or disk arrays without having to reboot or stop services.
V2V, V2P conversions, and P2V conversions: Convert physical disks to virtual disks and vice versa, as well as between virtual machine disk formats (V2V). Convert physical machines to VMware, VirtualBox, or Hyper-V in all combinations.
Reliable Virtual Machine Backup: (Backup Hyper-V, backup VMware, and live VirtualBox virtual machine backup), while running without any interference
Granular Restore and Granular Backup: Backup & Restore at the file-level of the VM's internal file system, without having to back up or restore the entire virtual disks
Flexible file processing, filtering, and (version backup, as well as running backup tasks and file backups in parallel simultaneously
Deduplication for virtual machine, email, and database servers, saves up to 90% of backup storage space
Built-in secure FTP Server (FTP encrypted over TLS/SSL), available in all editions. FTP Server supports deduplication and new server-scan technology that significantly reduces backup time over the internet.
Cloud backup and site-to-site remote backups, (See our cloud backup plans);
Build your own remote backup system using BackupChain's FTPS server and DriveMaker, or pair multiple BackupChain servers together, one backing up to the other. BackupChain is the only tool offering incremental FTP backup, which uses deduplication to only upload compressed file content changes over the internet, without having to back up the file in full at each backup cycle.
Discover BackupChain's Backup Components and Use Cases
Centralized management over the internet or within your LAN
Version Backup with automatic versioning control of every single file and folder
Windows Server 2019 Backup, Supports all Windows Server versions
Our Personalized Technical Support Serves Customers in Over 80 Countries
You will be assigned to a personal technical support consultant, who will take care of all your questions quickly. We are based in Baltimore, Maryland, USA (New York timezone). Feel free to contact us anytime with questions, comments, and suggestions.
BackupChain: Your All-in-one Backup Software for Windows Server and Windows PCs
Back up VMs on Windows Server 2022, 2019, 2016, 2012 / R2, and 2008 / R2, Windows 11, Windows 10 and 8, and Hyper-V Server 2019 – 2008 with full user interface.
Automatic VMware backups
Back up VMware VMs with or without deduplication, to local disks, NAS servers, Cloud and FTP sites
File retention and delayed deletion features clean up old backups automatically
Restore any VM or file server structure to any previous state
Fine-tune based on file extension, for example, process Word files (*.docx) differently than virtual disks (*.VMDK).
Easy to use interface, downloaded and installed in just one minute.
Powerful Server Features
File change detection via deduplication: BackupChain finds changed blocks inside files. Only the difference is backed up in a compressed incremental or differential delta file
Live backup for databases and virtual machines servers. All services and virtual machines are backed up without any interference
Fast compression and very large file server handling (for example: terabytes stored in millions of folders)
BackupChain handles Unicode and extra long file and path names properly (up to the NTFS 32768 character limit), with or without compression
International characters are processed correctly
Rotate backup drives and target folders without changing the backup task configuration. Any drive can be used alone for a full restore
Cluster Shared Volumes support in all Server Editions
Licenses are perpetual and include a one or two year software update maintenance plan.
Run simultaneous file backups as well as several tasks in parallel
Several speed throttling features to ensure minimal system impact
Set up Your Own Secure Remote Backup System
Back up from one office to another with high security links and military-strength encryption
Intelligent deduplication backs up only the content difference of each file
Data and and link are secured by military-strength encryption standards (FIPS, HIPAA compliant).
File Backup with Versioning
Set up different retention plans for each type of file
Compress using different formats
Exclude based on a wide range of filters
Backup Drive Rotation
Rotate hard drives as you like: no configuration changes are needed.
Any drive can serve as full restore media
You can also rotate FTP and network target folders
Start your first backup in a few minutes!
Download and try the full version of BackupChain today. Your purchase is backed by our 110% Money-Back and Best Value Guarantees, see here.